Solar Tracker SM12SLT with backstructure for 12 panels (2,16 kWp)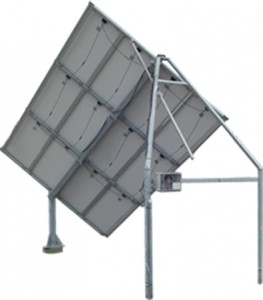 Single axis or dual axis Solar Tracker with accuracy better than 0,5 deg and backstructure for 12 pieces of solar panels dimensions 0,82 m x 1,604 m and weight of 25 kg max each. So together for 20m2 solar panel surface. 
A  Suitable for PV panels, concentrators – CPV, heliostats. Usage at homes: on-grid at roof on houses, trafic signalisations, street light, cottages, small and large powerplants where solar panels are connected in serial and output is connected directly to inverter or an external charging device. Wind resistance is minimal 180km/h. 
Solar tracker anti-shadowing software function included.
Get more information and all the specs for the Solar Tracker SM12SLT with backstructure for 12 panels (2,16 kWp)